Stay Cool, Sleep Happy
Doctors advise that keeping your body cool at night drastically reduces nightly hot flashes.

The Smart Topper keeps your body cool through the night. Many women have experienced an elimination or reduction of nightly hot flashes from using the Perfectly Snug Smart Topper.
"The Smart Topper Really Works!"
"Sleep in midlife is a little tricky. I've been sleeping on my Smart Topper for a while now, and haven't been experiencing hot flashes at night anymore. When I spent a night away at a hotel, I had a 'personal summer'. I couldn't wait to get home. The Smart Topper is LEGIT."
-Pam R
Cooling and Warming When and Where You Need It
Hot flashes don't cure icy feet but the Snug Topper's foot warmer does!

Cool or Warm - You choose! Climb into a warm bed and fall asleep feeling cozy. While you're sleeping, the Smart Topper lowers its temperature so you don't overheat. The built in sensors monitor your body temperature and automatically cools or heats to maintain your preference.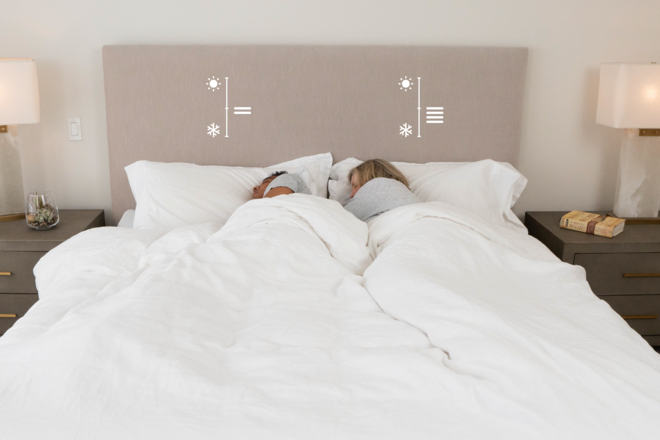 Hubby Wins Too!
Not only will you sleep better, so will your hubby, regardless of his temperature preference.

If he tends to be cold, the Dual Zoned Smart Topper can be adjusted to keep him warm and cozy for a sound sleep. If he tends to be hot, the Smart Topper provides a cooling airflow so he's not tossing and turning all night.