Why Perfectly Snug is the Best Sleep Cooling System
Compare Perfectly Snug to Other Sleep Cooling Systems
The Smart Topper Compared to Others
The Smart Topper's specially designed fans create active airflow beneath and around your body to keep you and your bed cool and dry. Your sheets will feel like they're fresh out of the dryer - all night!

Eight Sleep's Pod Pro and ChiliSleep's Ooler/Dock Pro circulate water in your bed. Water leaks can result in dangerous mold and destruction of your mattress.
The Smart Topper is clutter free with no control units or hoses. Eight Sleep's Pod Pro, ChiliSleep's Ooler and Dock Pro, and BedJet's, um, Bedjet have bulky control units with hoses that connect to your bed.
The Smart Topper keeps you dry. Air automatically circulates underneath and around you and removes moisture. Stay cool and sweat-free all night long.

Water-based solutions like the Eight Sleep Pd Pro and the ChiliSleep Ooler and Dock Pro are susceptible to condensation (think the outside of your toilet tank) which could cause mildew or mold. Their system do not remove moisture, but cause it.
BedJet blows air on top of you, and doesn't cool underneath your body where it's hottest. Tossing and turning will continue with BedJet.
The Perfectly Snug Smart Topper has built-in sensors that monitor your temperature and adjust cooling and warming during the night so you don't have to wake up.

Other mattress coolers like the ChiliSleep Ooler or Dock Pro and the Bedjet don't know how hot you are and won't automatically keep you at your preferred temperature.
The Smart Topper vs Other Options
|   | Perfectly Snug Smart Topper | Eightsleep Pod Pro | Chilisleep Dock Pro | BedJet 3 |
| --- | --- | --- | --- | --- |
| How it cools | Air | Water | Water | Air |
| No bulky bedside unit | ✔️ | ❌ | ❌ | ❌ |
| No chance of leaks or condensation | ✔️ | ❌ | ❌ | ✔️ |
| Removes moisture from your bed | ✔️ | ❌ | ❌ | ✔️ |
| Cools under AND around you | ✔️ | ❌ | ❌ | ❌ |
| Senses & regulates your body temperature | ✔️ | ✔️ | ❌ | ❌ |
| Maintenance free | ✔️ | ❌ | ❌ | ✔️ |
| Easy set up | ✔️ | ❌ | ❌ | ✔️ |
| Foot warmer | ✔️ | ❌ | ❌ | ❌ |
| Built in manual controls | ✔️ | ❌ | ❌ | ❌ |
| Burst cooling and heating modes | ✔️ | ❌ | ❌ | ✔️ |
| Can use with or without phone app | ✔️ | ❌ | ❌ | ✔️ |
| Price | 💲💲💲 | 💲💲💲💲 | 💲💲💲 | 💲💲 |
These Customers Tried Our Competitors - Here's What They Had To Say
I have tried the Chilipad and never liked how I could feel the tubing beneath me, but the Perfectly Snug topper is the right amount of firm and plush.

—Rhyz B.
I have used the water ones (too much maintenance), Sleep Number Dual Temp (annoying tubes on the side of the bed), and Bed Jet (the better of the rest), and found Perfectly Snug to be the best in its class.
—Mark M.
We've tried the popular Bedjet product. It really doesn't cool my back which is the biggest problem for me. The Smart Topper however cools the back nicely.

—Collin K.
Sleep cool and dry
The controlled cooling airflow will keep you at the right temperature.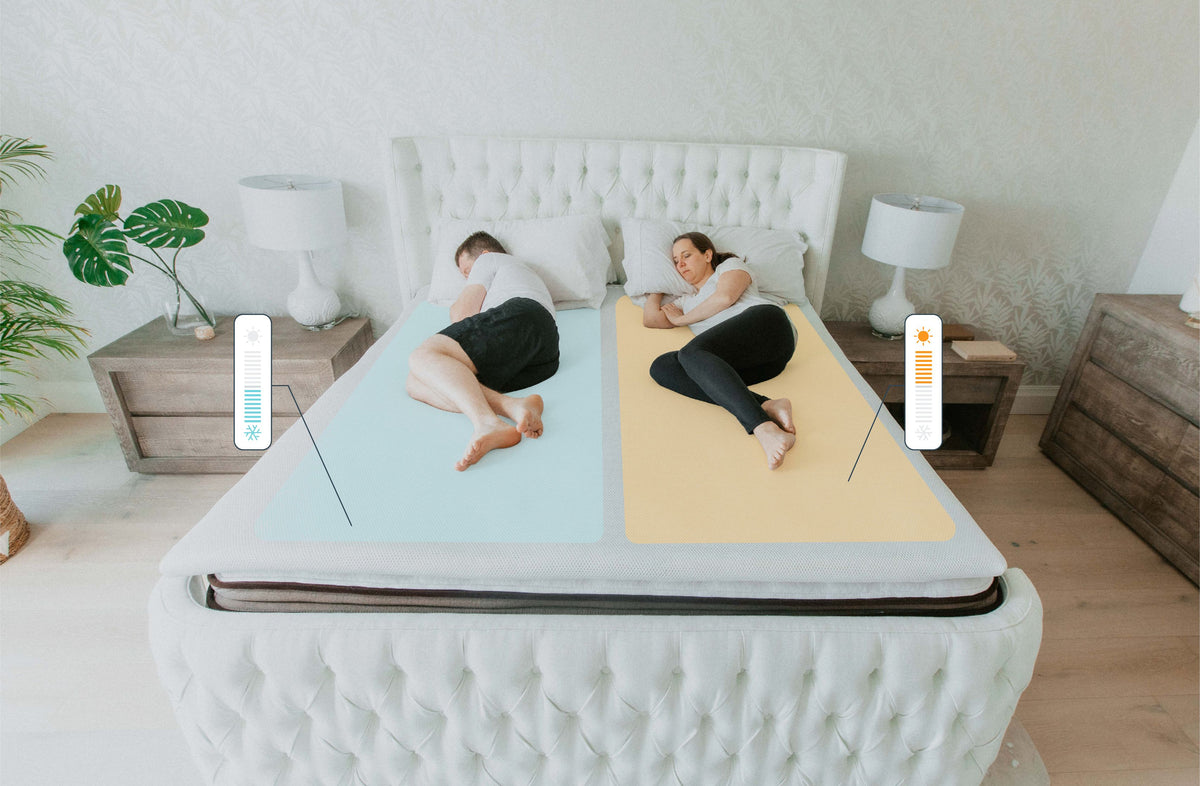 Sleep better together
The dual zone feature lets each sleeper control their side of the bed.
No more tossing & turning
Sensors measure and automatically adjust the cooling and heating.
Personalize your experience
Flexible controls let you customize your sleep temperature.
Active Airflow
The Smart Topper uses active airflow underneath your body to keep you and your bed cool and dry. This cool air flow under your body, prevents heat build up where you lay and carries away excess humidity reducing night sweating.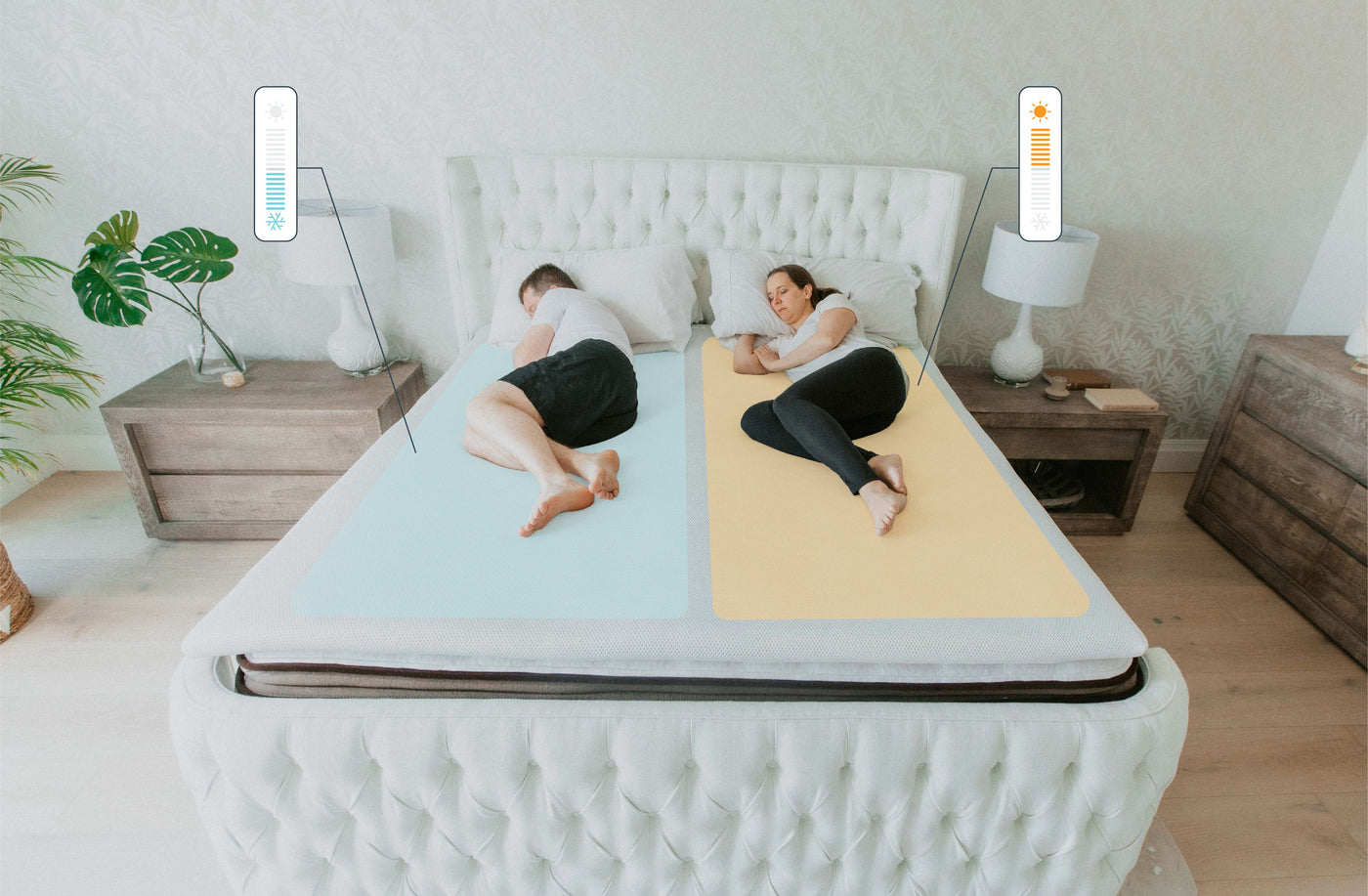 Dual Zone Temperature Control
Dual zone controls allow for you and your partner to set personalized temperature settings on each side of the bed. No more fighting over the thermostat!
Moisture Removal
The gentle cooling airflow underneath and around your body ensues that you'll stay cool and dry throughout the night.
Smart Sensors
The sensors in the Smart Topper monitor your body temperature to detect when your body temperature has risen or fallen below your set temperature. When it detects the temperature change, it will automatically adjust cooling and heating throughout the night.
Schedule Your Sleep
Your sleep temperature changes throughout the night. Schedule your sleep temperature preferences so you can fall asleep quickly, sleep soundly, and wake up naturally.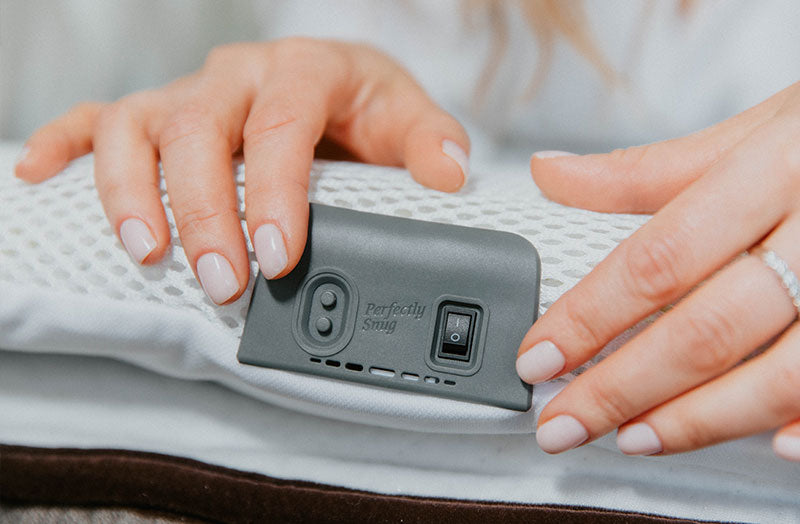 Burst Mode
A burst of cooling or warming is perfect for rapid relief. Simply hold down the up or down button for an instant burst of warming or cooling.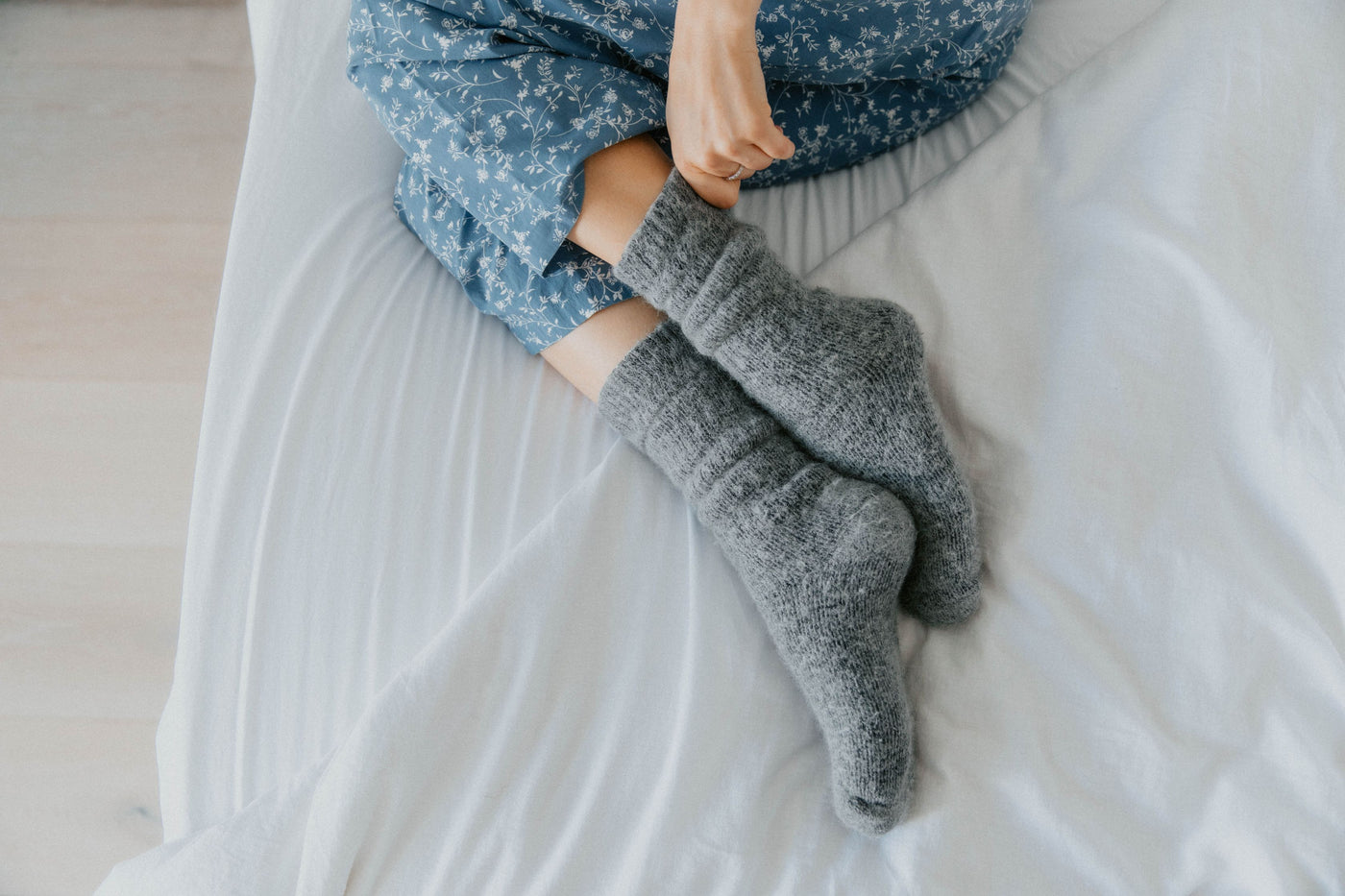 Foot Warming
Hate getting into bed with icy cold feet? Turn on the foot heater and say goodbye to icy cold feet.  Climb into a cozy warm bed with heating concentrated at the bottom of your bed.
What Sleep Reviewers Have To Say
If you're concerned about the price, I get it. After using the Smart Topper for a couple of months, I'm now in a place where I can't imagine not having one on my bed. If this review sample eventually dies, I'll become a retail customer — that's how much I love using the Perfectly Snug Smart Topper.

—Dan Cohen, Senior Editor and co-owner of Gear Diary
Bottom line… it is very effective at regulating the temperature of your bed over a sustained period of time.

Is the Perfectly Snug Smart Topper better than the Chillipad? Yes, The Smart Topper is better than the Chillipad. This is because the Chillipad features a bulkier, remote-controlled design, while The Smart Topper comes in the form of a mattress topper and is app-controlled.

Is the Perfectly Snug Smart Topper better than the BedJet? Yes, similarly to the Chillipad, the BedJet has a bulky design that isn't as hidden or minimal as The Smart Topper. Plus, this mattress topper is also remote-controlled, rather than app-controlled.

Is the Perfectly Snug Smart Topper good for partners? Yes, this mattress topper is perfect for partners who have different preferences when it comes to the temperature of their sleeping environment. This is because of the dual-zone climate control feature, where each side can be set to different temperatures.

—Macie Maislin, Sleep Product Tester at Sleep Authorities
There are all kinds of products out there right now that claim to keep you cool while you sleep but the Perfectly Snug Topper does it in the simplest way by circulating fresh air under your sheets. With this topper you no longer have to wake up sweaty and I found myself switching positions a lot less frequently at night. While it is a big investment, it is a solution that will keep you at an optimal temperature in a way no other technology on the market can.

—Ben Trapskin, Founder of The Sleep Sherpa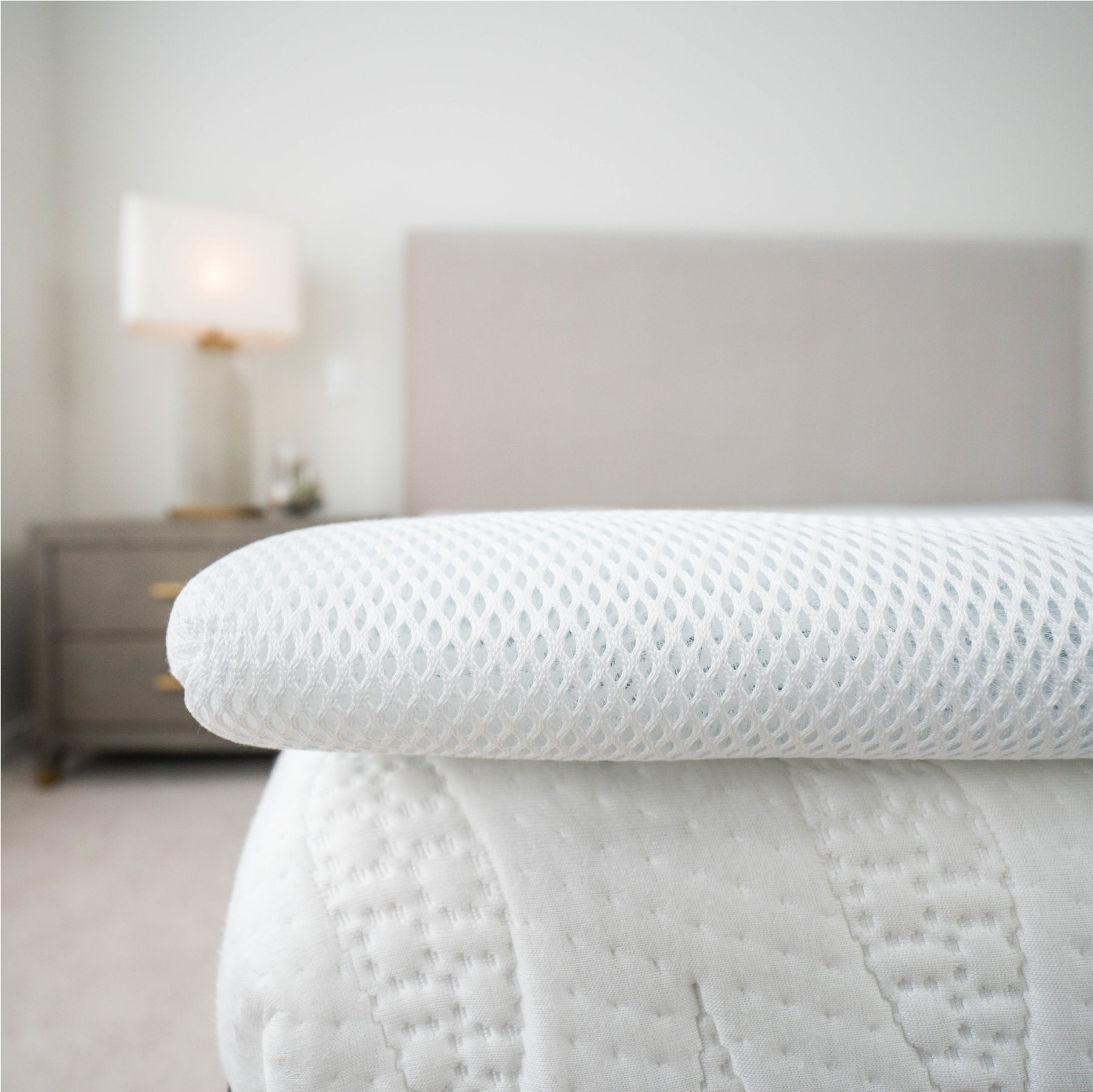 The Smart Topper changes your mattress into a climate controlled bed.

Greatly improve your sleep quality.  No more tossing and turning looking for a cold spot.  Ai-R SleepTech controlled airflow will cool your body and keep you at your perfect temperature.
Couples both sleep well.  Use the same blankets, in every season, without fighting over the thermostat.  Each person controls the temperature of their side of the bed.
Eliminate or reduce night time hot flashes.  Preventing overheating while you sleep makes hot flashes less likely.
Eliminate or reduce night time sweats.  Controlled airflow keeps you cool and dry.
Climb into a cozy warm bed with extra warm feet.  Preheating the bed and the foot heater is pure luxury.
Optimize your sleep by contouring your bed temperature through the night.  The temperature of your bed can change through the night according to your preference, so you can fall asleep quickly, sleep soundly and wake up naturally. 
Save up to $150 at checkout.  Use code fall2023